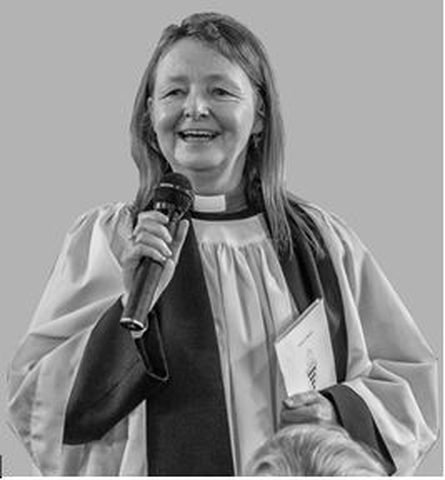 Growing up, as I did, in the semi-rural parish of Claines, Rogation Sunday was one on which we concentrated on agriculture, asking God's blessing on the land as we "beat the bounds." Most years this beating of the bounds only involved a small number of parishioners but one year an adventurous curate took it to a new level, using various forms of transport for different parts of the journey. A motorbike, tractor and even a canoe were pressed into service. This gave the parishioners some fun and remained a talking point for several years (as you can see by the fact that I still remember and want to write about it!).
But what is Rogation really all about?
The word "Rogation" comes from the Latin noun rogatio, meaning "asking." Rogation Sunday, falling on the fifth Sunday after Easter (or sixth Sunday of Easter) is one on which, traditionally, the church prays particularly for God's blessing on agriculture and industry. It is the last Sunday before Ascension Day and the three days between (Monday, Tuesday and Wednesday) are also Rogation Days which should be set aside for fasting and prayer.
The Episcopal Church's online dictionary (https://www.episcopalchurch.org/glossary/) tells us that Rogation Days originated in Vienne, France, in the fifth century when Bishop Mamertus introduced days of fasting and prayer to ward off a threatened disaster. In England, they were associated with the blessing of the fields at planting. The vicar "beat the bounds" of the parish, processing around the fields reciting psalms and the litany. In the United States they have been associated with rural life and with agriculture and fishing.
So, Rogation has come to be associated with a particular time – the time of year when farmers and gardeners are busy planting and generally preparing for what they hope will be a good harvest. If we return to the meaning of the word, however, we find that just about every day is a "Rogation Day" as few days pass without us asking God for something.
Recently our thoughts and prayers have focused very much on the situation in the Ukraine and alongside a great deal of practical action, many prayers have been offered up, asking God to intervene and bring peace back to that country and its neighbours. Before that, our main focus was the Covid Pandemic with entreaties being made for the sick, for NHS workers and for the controlling of the virus. Before that, we probably concentrated on the issue of Brexit, with people praying for whichever outcome they preferred and, even more importantly, that whatever the result, it would not be the cause of trouble and disruption.
Setting aside these national and international issues, we each of us, in our daily lives, have our own individual concerns which we take to God, asking for his provision, his mercy, his guidance. We each have our own "Rogation Days" when these needs and concerns are particularly pressing. Perhaps we approach them, as true Rogation Days should be, with fasting and intense prayer. It may be that we are far less structured and disciplined, simply coming to God with a cry from our hearts. Whatever form our supplications take, it is right that we should take them to God. In his letter, St Peter wrote (1 Peter 5,7 (NRSV)): "Cast all your anxiety on him, because he cares for you." 2
There is, however, a "flip side" to asking – and that is thanking! When Jesus healed ten lepers, he expressed surprise and disappointment that only one returned to say thank you. (Luke 17, 11 – 19).
Rogation Sunday this year falls on May 22nd. Five months later, at the beginning of October, we will celebrate our Harvest Festivals, when we thank God for honouring the prayers offered at Rogationtide and blessing the efforts of those who provide us with our food and other necessities of life.
If we each have our individual "Rogations" - times when we make particular pleas for God's help or blessing - then we must also remember to have our own times of thanksgiving, recognising when prayers have been answered, needs met, strength and comfort provided. The importance of matching asking with thanking, is implied in this prayer for Rogation Days (from 'Rogation Days' by Joshua Steele (https://anglicancompass.com/rogation-days-a-rookie-anglican-guide/)
Almighty God, Lord of heaven and earth.
We humbly pray that your gracious providence
may give and preserve to our use the harvests of the land and of the seas,
and may prosper all who labour to gather them,
that we, who are constantly receiving good things from your hand,
may always give you thanks;
through Jesus Christ our Lord,
who lives and reigns with you,
in the unity of the Holy Spirit;
One God, now and for ever. Amen.Sarah