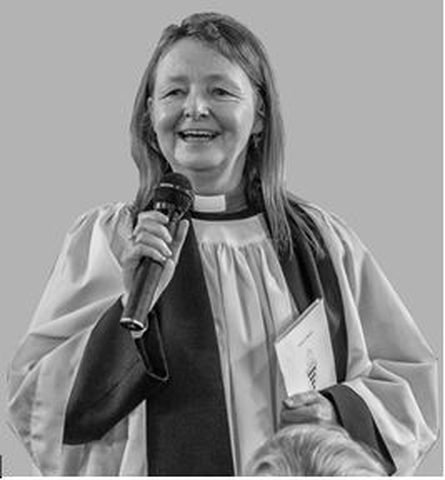 "Rejoice, hold fast to the faith. And remember to fulfil those small tasks that you have learned while you were with me."
Reputed to be amongst the last words of St David to his followers, these words could just as easily have been spoken by Jesus to the disciples of his day, and to his modern-day disciples.
Easy as it is to become discouraged and disgruntled in these difficult times, we nonetheless have very many reasons to rejoice. Although some, with good reason, have made the difficult decision to stay away from church, our church buildings are open for both public worship and private prayer. Through the wonders of technology, we can maintain contact both with our worshipping community and friends and family however far away they may live. We are blessed to live in a country which has a wonderful, hard-working and free health service and slowly but surely, the Covid Vaccine is being made available. In addition to all of this, despite the recent snow fall, (light flurries are falling as I write!) we can find signs of spring all around us in the appearance of flowers, the renewed bird song and the gradually lengthening days. So yes, we can rejoice!
The second instruction, hold fast to the faith, may also present some difficult challenges. Those who have lost loved ones, to whom they have been unable to say goodbye; those who have lost their jobs or who have suffered from enforced isolation, afraid to go out and unable to meet friends; all these may feel equally cut off from God. Faith may seem a pointless, and hopeless exercise. Where, they may be asking, is a loving God to be found in any of this? There are different ways to answer this question. In his hymn, God Is Love, Timothy Rees says:
God is love ….
and when human hearts are breaking
under sorrow's iron rod
then they find that self-same aching
deep within the heart of God.1
The answer to the question, where is God? is that he is here, in the midst of our sadness and anxiety. No matter what we are going through, what troubles we face, we are not alone because God is there with us. We may not always feel his presence, but faith will reassure us that he is there and will help us through even the darkest times. This sort of faith is expressed in a piece of graffiti found on the wall of a cellar in Koln where a Jewish believer hid from the Gestapo:
I believe in the sun, even when it isn't shining;
I believe in love, even when I am alone;
I believe in God, even when He is silent.2
There are many instances in the Bible where we are assured of God's love and faithfulness and these will do much to sustain the believer through the occasional "wobble" in their faith.
The ultimate answer though, to the question of where is a loving God? lies in the living out of David's final instruction: Remember to fulfil those small tasks which you have learned while you were with me.
In common with most monasteries, the monks under David's rule would have cared for the poor in their neighbourhood, and in so doing demonstrated the love of God in a very practical way.
Jesus spent much of his ministry doing good for others; not only in the healing miracles he performed, but by challenging social norms and prejudices through his teaching and his actions. He also encouraged his followers to take every opportunity to do good for others, telling them that in doing so, they also served him (Matthew 25:33-46).
Over the last twelve months, we have all had ample opportunity to take this teaching of Jesus to heart and we have seen countless examples of people doing so. Church volunteers have delivered pew sheets; those with technical expertise have made it possible to broadcast services, whilst others have regularly telephoned people who are otherwise isolated. Emails and news sheets featuring quizzes, puzzles and jokes have helped to keep our spirits up. Many have undertaken shopping and other services for neighbours. All of these actions may seem small to those performing them, but they have been of huge importance to the recipients, and of great value in the eyes of God, who accepts them as acts of loving service to himself.
It has been a strange and difficult twelve months for all of us. No doubt there will be many more difficulties to face before this crisis is over but progress is being made. Meanwhile, spring is just round the corner; we are only just over a month away from Easter, the message of hope and joy of which can never be destroyed, and we have good reason to obey St David's instruction to rejoice and hold fast to our faith whilst continuing to do whatever small acts of service and kindness we can, in the name of Jesus, our Lord.Sarah
1 Timothy Rees: God is Love. Hymns Ancient And Modern Limited, 1983
2 Unknown author, quoted by Pete Greig: God on Mute. David C. Cook, 2007